Following the COVID 19 epidemic, all marriages were canceled. However, today, they are gradually resuming, but with safety standards to be observed. The most important constraint is that of the number of guests.
Often, gatherings are limited to a dozen people. So how do you celebrate your wedding? Well the solution is simple, put yourself in the trend of "Micro Weddings". This concept consists in having an intimate wedding with less than 50 guests. In addition to allowing you to celebrate your happiest day, this method allows you to save real money and decrease your budget. If you are interested I leave you with the rest of the article.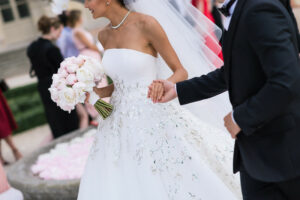 Planning a wedding is a huge undertaking – and an equally huge investment – leaving modern couples torn as to whether it is worth it. These days, weddings on average exceed $ 30,000, and the number of guests? It may go down slowly, but most couples still celebrate with close to 150 of their friends and family (which does not really deserve the "closest and dearest" descriptor). You and your partnr may have been joking about the leak, but if you know you can't go against all tradition, there is another option: a micro-marriage.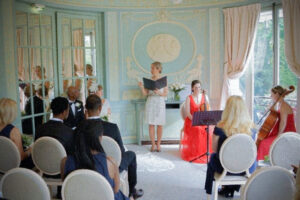 What is a micro wedding?
A micro wedding is an intimate affair, usually with no more than 50 guests. They still have centuries-old traditions that make a marriage but on a much smaller scale.
It differs from both an escape and an "intimate" marriage. A runaway is usually done in secret, will only be attended by the married couple and two witnesses, and is often a quick and simple transplant ceremony – while a micro wedding is a full wedding day, just on a smaller scale .
Although it may still be the couple and two witnesses, it is not done in secret or on a whim, but it is a well thought out and planned wedding day, just for a small list of 'guests. The ceremony will often not take place either at a registrar.
Micro-marriages are also different from intimate marriages. An intimate or small wedding is generally considered to have between 30 and 60 guests. Micro-weddings are much smaller than that, with guest numbers usually single digit.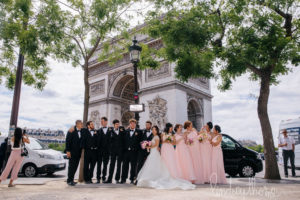 Why is this type of marriage ideal for you?
With fewer guests, less work, fewer opinions and people to satisfy, less budget required and more options in terms of space to celebrate. For example CTH Events Paris offers you unique places like the Eiffel Tower, the Louvre, French castles, the most beautiful churches and cathedral in France… Trust your wedding planner, he / she will help you make the right choices for make your wedding unique, just like you are in your dreams. Here are 6 reasons why micro weddings are so trendy right now.
          1) You will enjoy a more relaxed day
The average wedding now has 82 day and 103 evening guests. Planning an event of this size is a huge undertaking that involves juggling multiple providers, researching RSVPs, planning seats and ensuring enough food, alcohol and entertainment for your daytime guests. If parents contribute financially, they may think it is their right to have a say in your day, which can lead to conflict. Naturally, some couples find this pressure off-putting. A small wedding of up to 20 people is often much less stressful for couples. It strips the planning process of the most important things for you as a couple: the people you absolutely want by your side and the experience you want to create for yourself and your guests. There is something very relaxed and wonderful about small weddings – more time to chat, more time to just enjoy the space and time together. You get this incredible atmosphere of support, happy and warm. A small wedding does not mean having to compromise on the style or type of day that couples want. Our weddings are always beautiful and, although the guest list is small, they are great in style and atmosphere.
        2) You can save money
When you reduce the number of guests at your wedding, the cost naturally decreases. If budget is a big consideration for you, a micro wedding where you invite only your dearest loved ones may be the best choice. It's also a fantastic idea if you want to focus on the quality of your customer experience. Budget can play a role, although that doesn't mean compromising on quality. We hear our couples telling us that they want a truly fantastic menu with local produce, good champagne and a feeling of treating their guests to a fabulous day. If there aren't that many guests, really excellent hospitality in a beautiful setting can be affordable. The great thing about doing things on a micro-scale is that your per capita spending may go up, but the overall cost will go down.
        3) It is easy to customize
Micro marriages are the antithesis of a contract marriage. They will most likely take place in places for exclusive use where you will be free to transform the decor, decide your order of march and create the atmosphere you want. For example, a couple organized a Poldark-themed wedding in Treseren, which shows how immersive and unusual themes can truly benefit from the size and freedom of a micro-wedding. Such an event would be difficult to recreate for more than 100 people.
        4) You spend more time with your guests
At a large wedding, couples are fortunate to have five minutes to catch up with each guest. With a smaller number, you can interact with each guest, make deeper connections, and make your guests feel more valued. In addition to this, places specializing in micro-marriages are often for exclusive use and offer a rental of several days, which means that a wedding day can become a wedding weekend with your loved ones.
        5) You are not limited by schedules
Trying to get 100 people for free on the same day almost certainly requires choosing a weekend for your wedding. However, the beauty of a smaller number of guests is that you can be flexible with how and where you get married. A weekday wedding may suit you better and be a cheaper option. If you choose to have a celebrant (and the legal part is done before), you open up even more possibilities to organize your wedding. A sunset ceremony on a beach, a picnic in a park, the rental of a country house for a few days – everything is possible.
    6) there are fewer eyes on you
Not a motivation for everyone, but for some, the thought of a hundred people watching you walk down the aisle and saying that your wishes can be a source of anxiety. Whether you are anxious or shy, it may be much more comfortable for you to say "yes" with only 10 people you love around you, which is perfectly acceptable!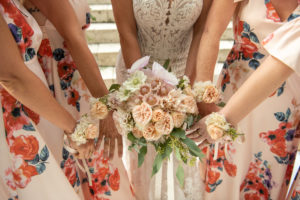 Now I think you have all the arguments to convince your spouse or partner to make a micro weddings and not let the coronavirus epidemic steal the show. Make the most beautiful day of your while being super trendy. CTH Events Paris is there to support you in the organization of this day and offers you a multitude of services and packages, such as the "Wedding in a castle", for your wedding in France and in Paris. Do not hesitate to contact us if you feel like it or simply to ask us questions, we are listening to each of the wishes of our future newlyweds or simply curious and passionate about marriage.
To follow all our news, I invite you to join us on our social networks:  Instagram and Pinterest.
Hope you enjoyed this article, don't hesitate to check out the rest of our blog.
Coronavirus, borders are now open