You know some names, you've seen them on postcards, but what do you really know about Parisian cafes. These mythical cafes may date from the 16th century, they are the symbols of
an era, they have welcomed many personalities over the centuries. These places are the charm of the French capital: Paris. The wicker chairs, the small round tables that overlook the crowded streets of Paris. Come and taste the best coffees in the most famous places in Paris. CTH Events Paris invites you to come and discover these places during a photo shoot, a wedding or a simple trip. If you want to know more about these little gems, read on.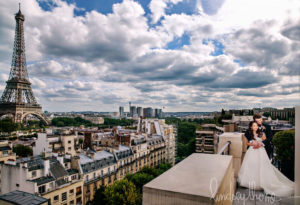 Their story
"The café is the people's parliament", said Balzac, a 19th century French writer. The cultural vitality of Paris in the 19th and 20th centuries, as well as its political effervescence, cannot be understood without the role played by the cafes and by the artists and intellectuals who frequented them. These establishments, which are both a bar and a small restaurant, with their terraces, round tables and wicker chairs, are part of the landscape of the French capital. Much more than a local gastronomic offer, they function as local hubs of gathering, and above all as meeting places in all its forms, whether professional or romantic. The meeting at the café is a must in the Parisian art of living.
The owners of traditional cafes and bistros are very worried about the accelerated disappearance of these places of life. For twenty years, half of them have gone out of business in Paris. There are less than a thousand coffees left. An association was therefore created in order to have Unesco recognize as intangible cultural heritage of humanity these "temples of conviviality, indispensable symbols in an ever more standardized society".
Chairs, a showcase of the Parisian art of living
Let's talk about terraces, what would they be without their famous rattan chairs? In the cinema or in literature, these pieces of furniture convey the charm of the capital, just like the street lamps, the Wallace fountains or the newsstands. And those who are lucky enough to be able to settle in for a drink praise their comfort and lightness! Did you know there are only two major brands of rattan chairs? And that they were made by hand?
While it is true that they all look alike at first glance, we must first distinguish between the real ones, those made in France manually, imitations …
There is only one technique to do this: observe the back of the chair in search of a claw. If it says Maison Drucker or Maison Gatti, bingo, they are real! These two great Parisian houses are in fact the only ones to share the French rattan chair market, each with its own specificities. They make chairs in all colors. From azure blue, to old pink, passing through mint green for Maison Drucker, or orange with aubergine for Maison Gatti. The shapes vary, ranging from armchair to stool and the patterns are also multiple, in checkerboards, diamonds, sawtooth or even stairs.
In 1885, when the Drucker house was founded rue des Pyrénées, rattan was very fashionable, and not only on the terrace of cafes … Charmed by their exoticism, many French people set their sights on rattan furniture to equip their homes!
Faced with such success, the Drucker company moved to larger premises, in the east of Paris. The Gatti house, for its part, opened in 1920. Unfortunately, with the war, importing rattan from abroad became more and more difficult. Fashion is changing …
However, a few years later, large restaurants and cafes saw rattan chairs as a worthwhile investment, because of their elegance and longevity. Today, the Gatti and Drucker Houses sell their chairs, armchairs and benches to chic restaurants and hotels around the world! But the breweries are not left out and were largely inspired by these creations to furnish their terrace. At a lower cost, they opt for imitation plastic models. On every street corner, these typically Parisian chairs are the stars.
If "real" chairs are the preserve of upscale restaurants, it's because not everyone can afford them. At Maison Drucker for example, you have to spend on average between 100 to 800 € for an armchair and 250 € for a chair. The cost of resistant materials, mainly rattan cane and rilsan, and handcrafted and custom made.
Then, we choose its model, its colors as well as its "caning", understand the pattern of the weaving. The chair is then assembled in six hours by the craftsmen. They have to cut the rattan and bend it to give the desired shape to the chair, weave the back and seat and put it all together, by hand of course.
You know everything about the great mysteries of Parisian cafes, now do you really know the unmissable cafes of the capital?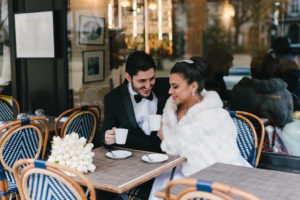 TOP 5 most beautiful cafe in Paris
Inaugurated in 1875, at the same time as the neighboring Opéra Garnier, Le Grand Café Capucines still impresses today with its beautiful Art Nouveau decor. It was in this brasserie in the Grands Boulevards district that the Lumière brothers screened their very first film in 1895.
One of the two legendary cafes in Saint-Germain-des-Prés, with Café de Flore of course! Opened in 1885, les deux Magots has seen many artists from the literary world pass, so much so that a "les deux magots" prize is awarded each year to a talented author. It takes its surname from a novelty store that existed before it in the same location, meaning "the two Chinese figurines". In the café room, two statues recall this past. Today, scholars and tourists still rub shoulders at Les Deux Magots.
A symbolic place of the left intelligentsia, the Café de Flore has not always been a progressive reception center… Founded in 1887, it first welcomed the great figures of Action Française, an extreme nationalist movement. -right. But in the 1920s, it was the surrealist wave that permeated Flore with its creative ardor. Guillaume Apollinaire, Jaques Prévert, Boris Vian and especially the couple Simone de Beauvoir and Jean-Paul Sartre are undoubtedly among the most illustrious regulars of coffee, which takes its name from the goddess Flore.
If you are generally sensitive to the "soul" of the place, you may be fascinated by that of Le Procope, the oldest café in Paris, opened in 1686. Not only is the place magnificent, with its crystal chandeliers, its mahogany furniture, mirrors and old bookcases, but it has inspired many artists and politicians, including Diderot who wrote several articles in the Encyclopedia. Even today, we still admire the hat that Napoleon would have forgotten!
It's hard to miss this huge café, which has been installed since 1862 in a hotel right next to the Opéra Garnier. Its long terrace, which offers a breathtaking view of the monument with golden statues, attracts many tourists in the summer. But it is above all the interior that is worth seeing. The ceiling painted by Garnier, the Empire-style carpet, the subdued lighting, the golden paneling, the large mirrors… Everything is there to enjoy homemade coffees and waffles in a very cozy atmosphere.
CTH Events Paris informs you
Know now that Parisian cafes are very popular places for photo shoots. Whether it's a simple photoshoot or for a wedding, cafes bring charm, softness and elegance to your photos. CTH Events Paris offers you a photo shooting pack in Paris as well as its event planning services to allow you to access these magnificent places with one of the best photographer in the capital.
We hope you enjoyed this article, don't hesitate to learn more about the French capital and the mysteries it abounds. Go see the news section to find many articles on the most beautiful places in France and Paris.
For more informations, follow us on our social network : Instagram, Pinterest.
Contact us, you will save hours of research, language problems and stress.
Top 10 chic and gastronomic restaurants in Paris