Princess weddings like fairy tales are the most popular weddings in France to celebrate the most beautiful day. Indeed, this beautiful country has breathtaking castles in France, with breathtaking garden alleys,
chandeliers made with diamonds, but also long corridors filled with historical portraits. There are many French castles, whether in the city or in the countryside, but still, in Provence they are all without exception perfect and grandiose for a great wedding ceremony, in a castle wedding in France.
Vintage fashion is again becoming a big trend for young brides and grooms who want an intimate wedding, or a large family wedding in a beautiful and spacious location to welcome everyone. It is also possible to take an accommodation package to have the advantage of not having to travel.
On the other hand, for those who do not want to spend too much money to rent a castle for a whole day or during a stay, a simple reception may be possible.
We have therefore concocted a list of different castles, more or less well known in France so that you have an idea of choice for your ceremony, reception or other event.
Nevertheless, if you wish to get married in a castle, it is necessary to plan a good time in advance for the rental with your wedding planner. Indeed, wedding planning can take up to 6 months and, renting a chateau is complicated as their rental schedule fills up very quickly.
We also add, that you have the possibility to hire a photographer who will take the best romantic photos in the different locations of the castle you have chosen.
Castle villette
Based next to Paris, since 1873, this castle has known a great history thanks to the Duke of Uzes. It is a perfect castle for a destination wedding, as it has been properly renovated and now resembles the original one.
It is also a small castle that remains very romantic thanks to its many statues and its garden made by professional gardeners.
If you wish to have a large family wedding, the castle has a large hall to accommodate a fairly large number of people.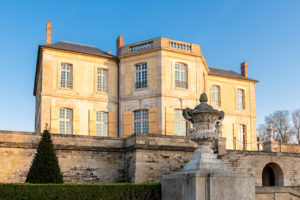 Wedding at Château d'Esclimont
Breathtaking castle with its 60 hectare park with statues, perfectly organised gardens and fresh water ponds. It is a castle that makes you dream a lot. If you choose this castle, it will make it easier for you. Indeed, it has 52 rooms, which is why you will be able to lodge yourself and your entourage. This avoids all the complications of logistical means to move around.
Moreover, what could be better than to want to live a princess count and to be able to sleep in a room such as you have never seen.
Chateau Challain
Located in the west of France and was built from 1847 to 1854, it is a castle that is in the neo-gothic style. The French also call it "Le Petit Chambord" which is a prestigious castle.
This castle has a very royal and classical architecture of this style. It is a castle resembling those of the movies thanks to the towers that are found on the sides at the end. The architecture is not the only impressive thing. Indeed, its grounds are gigantic and you can almost get lost if you wander around. For a wedding, the location is perfect. Surrounded by greenery and a pond, it is the magical place for your wedding. What could be better than to play King and Queen during a photo shoot in this castle?
Chantilly Castle
One of the largest in France, the Chantilly castle emerged from the historical works of a French Duke who is well known in the history of France. There is a large collection of historical paintings. Moreover, it is one of the only castles in France that still has furniture dating back to the reign of Louis XVI.
Close to Paris, it is a must to think about for your event. Large, chic and luxurious, it will perfectly match your dream wedding destination. It is also very well suited for an elopement. Imagine yourself alone in this castle with your beloved.
It is therefore possible to privatize this castle for your wedding, a reception, but also a photoshooting.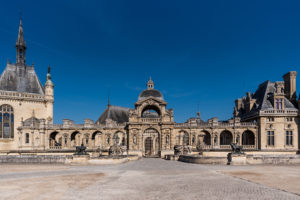 Palace of Versailles
Largest and best known in France. The Palace of Versailles is the greatest prestige in the history of France. Formerly inhabited by King Louis XV nicknamed the Sun King, his castle is visited by the whole world. Between its ice galleries and its breathtaking garden, the King's large apartment and the Queen's large apartment, this place is therefore not insignificant. From the top of its 830 hectares, its eternal garden offers you a long stroll if you wish to discover the whole garden. With its thousands of plants and trees, it is a romantic castle for an event.
That said, it is very complicated to book this idyllic location and this results in a higher cost. But don't hesitate to still want to take pictures in this must-see place or organize a romantic getaway if you really want to get this place.
Conclusion: castles are the dream places to organize an event, a wedding or a reception. Indeed, accompanied by a long white dress for the bride and a carriage, everything becomes more magical and romantic.